Hardware Options for Sagitto Users
Sagitto has extensive experience in working with miniature NIR spectrometers. We have our own version, based on the DLP® NIRscan™ Nano, with several accessories.
While we're proud of the Sagitto miniature NIR spectrometer we're not precious about it. From our perspective, its just another source of data. Thats why we also support users who wish to explore the potential of miniature spectroscopy by using the DLP® NIRscan™ Nano EVM evaluation module. Both can be controlled using the TI GUI application, when connected to a computer via a microUSB cable.
Sagitto Miniature NIR Spectrometer
Sagitto's miniature Near Infrared spectrometer is based on the NIRscan™ Nano design from Texas instruments, and operates in the wavelength range of 900nm to 1,700 nm. It is very small and light weight, with a lithium polymer battery that is rechargeable through a microUSB connection. Designed to be entirely controlled from your iPhone or iPad using Sagitto's iOS app and low energy Bluetooth, this is the ultimate in portable and affordable NIR instruments.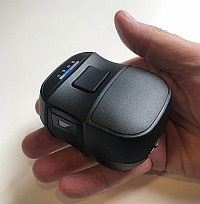 The Price
US$1,950 each
plus US$100 shipping worldwide
Each Sagitto spectrometer comes pre-loaded with a range of demonstration models, plus the latest machine learning models for
predicting textile composition
.
Buy Now
To buy your Sagitto spectrometer, just
Register
with Sagitto. Once you've logged in to Sagitto, you'll be able to pay with our secure
credit card
payments system.
Leaf Scanning Version
Each Sagitto spectrometer comes with a high quality NIR reflector, so that the instrument can be re-calibrated as required. We have developed a version of the Sagitto spectrometer where this calibration reference material is attached to the spectrometer case, for ease of use and to reduce the risk of it being lost.