Sagitto is able to determine the manufacturer of thermoplastic sheathing (TPS) in electrical cables, based on the thermoplastic's absorbance spectra.
In August 2017, WorkSafe New Zealand issued a non-compliance notice for a brand of two-core plus earth TPS (thermoplastic sheathed) cable marked "EESS 150102-0". Although purportedly having passed Chinese electrical compliance tests, accelerated aging tests showed that this cable is likely to become brittle and fracture within a few years of installation.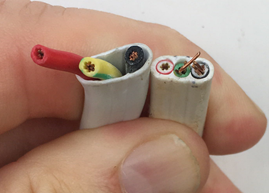 Analysing the thermoplastic sheathing (TPS) in the "EESS 150102-0" cable using the hand-held Sagitto miniature NIR spectrometer, and comparing it to four other brands of cables, the non-compliant cable was found to be demonstrably different.
Furthermore, Sagitto was able to accurately distinguish between each of the five brands of TPS cable by analyzing the TPS on either the phase or earth wires in these cables.
This demonstrates how the Sagitto system provides an accurate and highly portable method of checking that a new batch of plastic components conforms to earlier (known conforming) batches from the same supplier.